Sharespace
Sharespace is a digital product that enables high school students doing project-based work to document, get feedback from experts, and showcase their work all in one place.
Concept
In an attempt to develop 21st century skills and competencies, a growing number of schools and out-of-school programs are implementing project-based or maker-based learning. While the new nature of this learning stands to help students pursue special skills and interests, students lack the resources to document this work for future use and the individualized support to progress successfully through projects. Our concept was to build a system for high school students doing project-based work in school that would allow them to interact with experts of their fields of interest. This will lead learners to:
adopt documentation techniques
deepen engagement or discover interest in a subject
find resources to support the pursuit of such subjects
showcase these skills through documented artifacts
Research
Literature Review
Our guiding conceptions of portfolio and its practice were introduced in the Maker Education Initiative's Open Portfolio Project Research Brief Series. After reading this set of reports, we began a survey of other academic literature and educational reports to develop an even deeper understanding of contemporary Maker education and portfolio practices. We aimed to identify key relationships and processes to understand how our system could be used by users and how it stands to serve the educational community at large.
Competitive Analysis
Following the literature review, we conducted a heuristic analysis on different platforms that offered portfolio documentation. These platforms included CritViz, Scratch, and Build-In-Progress. We observed how currently available platforms handled documentation and portfolio work, concluding that most failed to support the problem at hand and maker-based work within the classroom.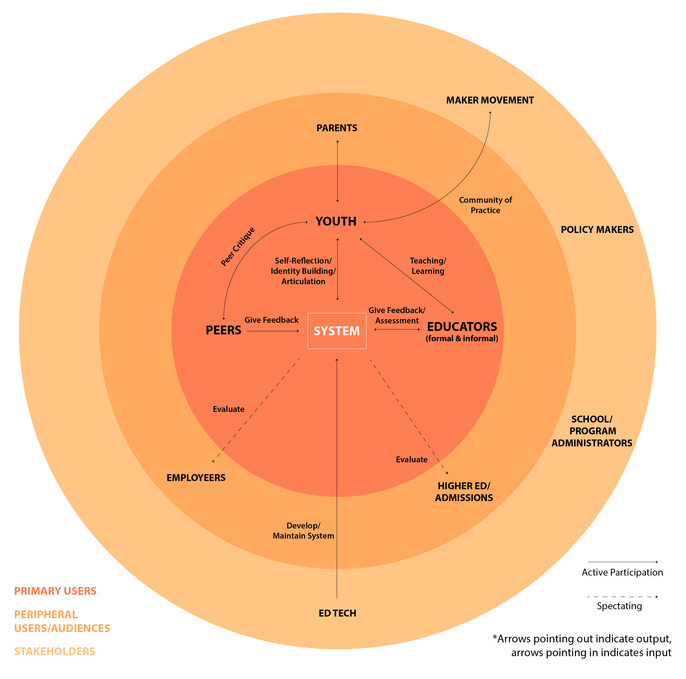 Portfolio User Studies
Over the course of a month, we conducted three sets of user studies to further inform the problem space. For each group we captured their goals, motivations, challenges, opportunities, and tools when considering successful portfolio practice and implementation. In conducting these studies, we aimed to construct an overall vision system and to better understand our user population
Personas
We further synthesized our research to create four different personas representing target learners. We organized these personas around levels of engagement and access to resources. We identified two user groups that we specifically wanted to impact: low resources and low engagement. In doing so, we could move forward to structure the system with these users in mind.
Swimlanes
Using the personas, we developed a series of storyboards and identified specific activities for a portfolio system to support. These included logistical processes such as on-boarding and portfolios specific activities such as documenting work and receiving feedback. We decomposed these storyboards into swimlanes, attributing each scene from the storyboard with different facets of the experience. In doing so, we established a model for both the user's task flow and also user's experience interacting with the system
Iterations & Testing
We went through three iterations until developing a final deliverable prototype. We started off by constructing wireframes, creating a pen & paper prototype, and then constructing two versions of an InVision prototype.
After each iteration, a round of user testing was conducted. We facilitated task analysis exercises with CMU undergraduates to test the efficacy of our design and incorporated feedback on each subsequent iteration.
Design Case
Stakeholder Presentation
We presented a our final design solutions and working prototypes to Collective Shift representatives and a review panel. In presenting this design case, we made sure to ground our design proposals between the data, research insights, and final system design. This presentation session was followed with a 15 minutes discussion and review. We reported and responded to these comments in our final project documentation.
#storyboarding, #wireframing, #usertesting, #photoshop, #indesign, #illustrator, #sketch, #invision, #userresearch, #prototyping